Future events will be announced. Stay tuned.
---
Past Events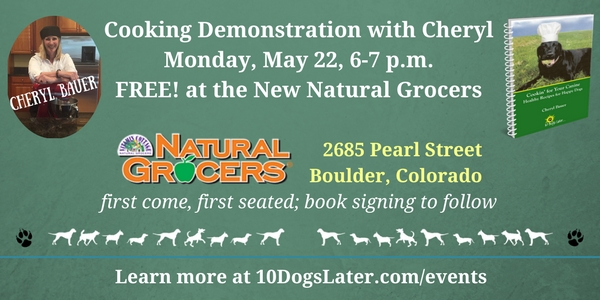 Click here or on image above to learn more about Cheryl's FREE cooking demonstration at the Natural Grocers in Boulder, Colorado. 
---
♥ My Furry Valentine ♥
Sunday, February 12, 2017
11 a.m.-3 p.m.
Tagawa Gardens in Centennial, CO
From the event organizers: "Bring your well-behaved, leashed pet and chat with over 30 local vendors offering pet services, accessories, and gifts. Pet health checks, pet photos, $5 nail trims, and prize raffles will also be available. The event benefits the inspiring non-profit work of YAPS, Youth and Pet Survivors."
While Cheryl Bauer is *not* the host of this event, she supports the cause and will sell her cookbook at this event. Visit the Bark N Wash booth to see Cheryl, who is donating 50% of her profits to Youth and Pet Survivors [YAPS]: Click here to learn more about YAPS.
Go to main event page: Click here.
Location: Tagawa Gardens (7711 S. Parker Rd., Centennial, CO): Map here: https://goo.gl/maps/9t9zJ3kkbXt.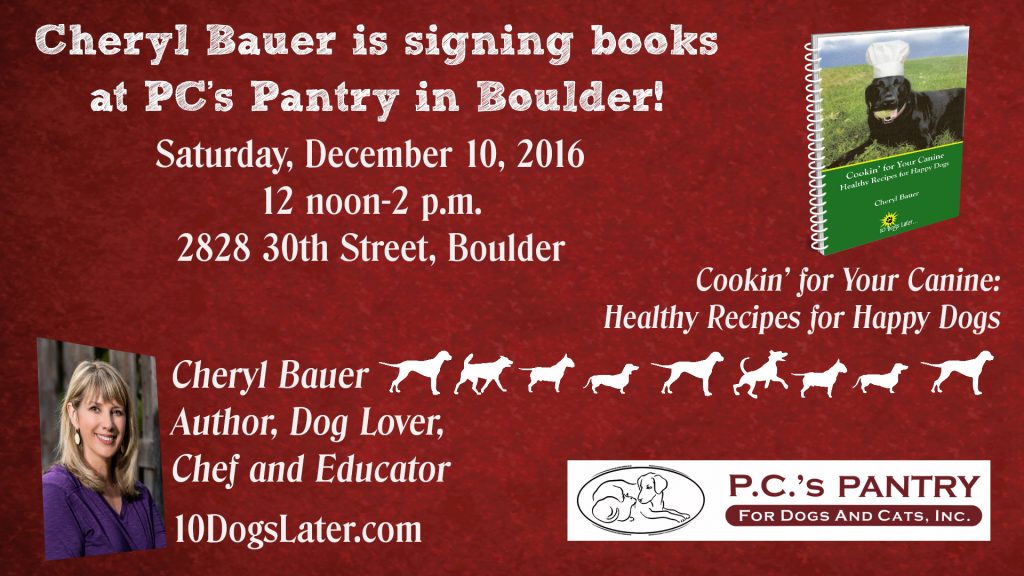 Stop by PC's Pantry on Saturday, December 10, 12-2 p.m., to purchase a signed copy for yourself and/or for holidays gifts: Cookin' for Your Canine: Healthy Recipes for Happy Dogs.
This book is "selling like hotcakes"! (Learn more about this book
by clicking here
.)
PC's Pantry is featured in the book!
Location: PC's Pantry: 2828 30th Street, Boulder, Colorado
(just south of Valmont Rd., on 30th St.)
---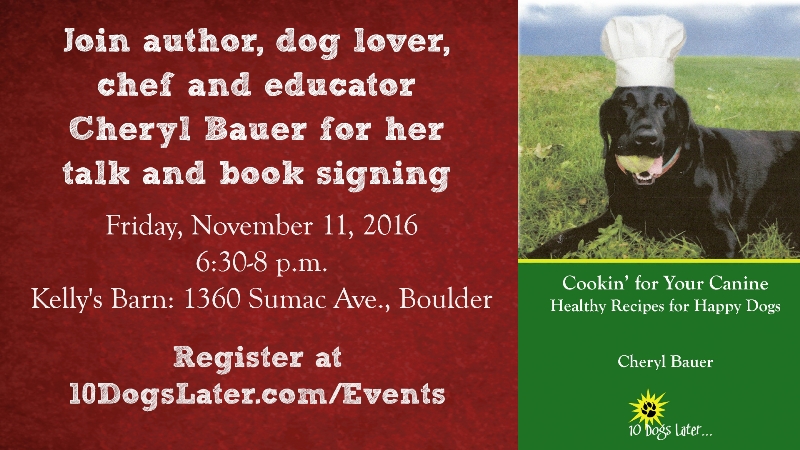 Join Cheryl and team for her talk and book signing on Friday, November 11, 2016, 6:30-8 p.m. in Boulder, Colorado! Cheryl will speak for approximately 30 minutes, and then she will sign books. Some of the proceeds will benefit the Humane Society of Boulder Valley.
Food and beverages are not allowed at this venue; however, you may bring a tightly sealed water bottle.
Please RSVP for the November 11 Book Signing, using the form below.
This event has already occurred. Thank you to all who attended!
Location: 1360 Sumac Ave., Boulder
Parking: Please do not park in front of immediate neighbor to the west; watch driveways, as this is a residential neighborhood. Lots of parking on Sumac and nearby cross streets.